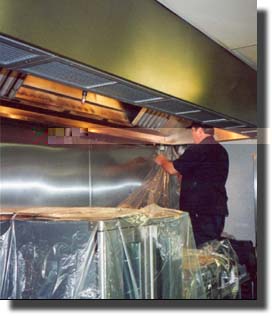 Champaign Back-splash and Griddle Cleaning
At Ability Services we want you to have the best customer experience possible without paying for services you do not need. We offer as additional services complete Griddle and Back splash cleaning. This way you can choose to have us take care of it or the normal kitchen staff. Call us today,
Here is a simple guide to follow.
Initial back splash griddle cleaning
Before your very first utilization of your griddle back splash, ensure you scrub it with a solution of warm water and white vinegar and then dry it totally. Next, wash it with warm soapy water before rinsing it and drying it completely. Finally, season it by applying a light coat of unsalted vegetable oil on its surface with the help of a paper towel or clean cloth. Permit this oil to sit for at least an hour before wiping it off with a clean cloth to eliminate residual oil.
Regular back splash griddle cleaning
It isn't mandatory to wash your griddle back splash after each usage. After each light cooking, just wipe its surface with either a paper towel or a clean cloth. However, after each heavy cooking pour some club soda directly on it while it is still warm. Next, utilize a metallic spatula to make the residual oil and pieces of food flow to the grease trough. Finally, wipe its whole surface with a towel and execute the seasoning process outlined in the previous section. Keeping your griddle back splash seasoned prevents the corrosion of its surface. So, even if you don't use it frequently, you must make sure you season it on a regular basis.
What kind of cooking oil should you use?
Using a non-stick cooking spray is not recommended as its high water content lets it burn on. Also, never use corn oil as its high sugar content can caramelize and burn on the surface of your griddle back splash making it difficult to eliminate.
Back splash griddle trough cleaning
This griddle back splash cleaning guide would definitely be incomplete without touching on the right cleaning of their troughs. After each usage of your griddle back splash ,always take off the grease trough for cleaning. The best way to do this is by washing it completely with hot soapy water. It is important to note that the buildup of grease and oil can trigger a fire hazard if left unchecked. On a parting shot, never pour cold water on to your griddle back splash while it is still hot. Doing so frequently can trigger warping and cracking over time and bring an end to its functionality.
Dump-Pad Concrete Cleaning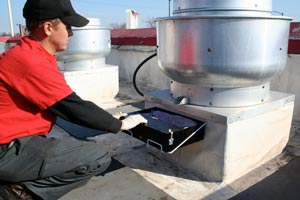 Restaurant Hood Exhaust Cleaning